8 Field Ambulance and RAAMC News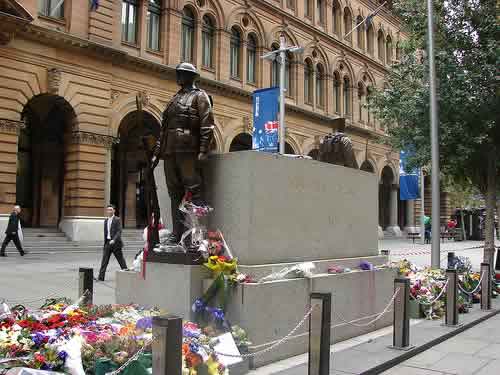 Active 8 Members welcome to your new website. Please make sure that that you put your email address in the Notify List located on the front page. This list allows me to notify you when the site has been updated. All contributions should be make via Bob Bald. Photos should be accompanied by a brief description and preferably in jpeg format. Documents should be in Microsoft Word. I hope you enjoy your site as much as I did putting it together for you.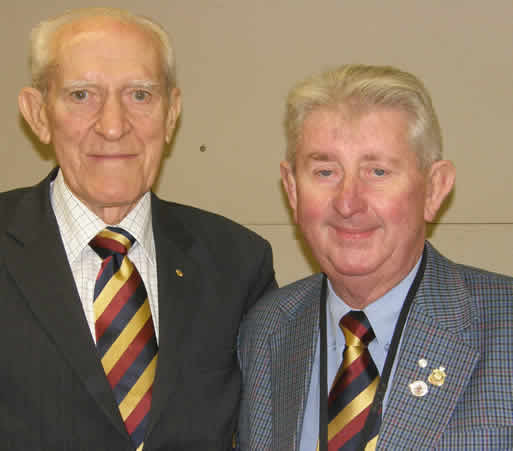 Left to Right: RAAMC Association Patron, Digger James AC MBE MC and 8 Active Eight Social Club Patron John (JJ) O'Brien meet at Victoria Barracks for the RAAMC National Committee Meeting. John O'Brien is also the National Secretary of the RAAMC Association

Webmaster
RAAMC Assn Inc
ACTIVE 8 Merchandise
Click here to view the range of Active 8 Merchandise Available to members
This year marks a major milestone with over a quarter of the Active Eight members reaching that magical age of 65 years. At our Perth reunion a "Birthday Bash" was organized to celebrate this occasion, A birthday cake was made by Kerrie Allen that had the names of those attending Perth and turning 65 written in icing on the cake made this so special, and of course accompanied by a 'full voiced' happy birthday by all present.
Following members are the Active Eight Birthday boys who turn 65 this year, majority are ex - National Service Personnel:
Anthes
Aspinal
Austin
Bald
Boddenberg
Breen
Bubb
Casey
Coventry
Crowe
Emonson
Frencham
Grace
Garcia
Graham
Harvey
Hughes
Horsfall
Jago
Leech
Manning
McDonald
Michie
Montesini
Morello
Murray
Oliver
Robartson
Stephens
Thorpe
Walpole
Weyers
Graeme
David
Warren
Bob
Ray (Flo)
Steve
Andy
Geoff
Dave
Paul
Len
Rob
Geoff
Ray
Peter
Peter (Slim)
Rob (Sparks)
Ray
Neville
Geoff
Robert
Terry (Macca)
Daryl
Lawrence
Ennio
Rod
Laurence
Clive
Alan
Brian
John
Bill

22/08/1945
02/10/1945
17/10/1945
09/02/1945
23/05/1945
06/07/1945
03/11/1945
28/12/1945
17/10/1945
22/03/1945
13/10/1945
23/01/1945
21/06/1945
12/01/1945
13/08/1945
19/04/1945
09/06/1945
05/02/1945
15/07/1945
10/01/1945
23/11/1945
19/05/1945
03/08/1945
03/07/1945
27/03/1945
24/11/1945
03/07/1945
22/11/1945
14/05/1945
05/02/1945
28/04/1945
14/02/1945
VICTORIA BUSH FIRES
As you are well aware in February this year Victoria suffered one of the worst bushfires on record with many deaths and homes destroyed.
Geoff and Chris Casey's daughter Alison, son-in-law Andrew, grandchildren Sam and Ben, were lucky to escape from the devastating fire that swept through Marysville late Saturday the 7th February, fire destroyed their home and all their belongings.
Not long after learning of Alison and her family's plight, I was approached by several members of the Active Eight asking can we as a group, do something to help this family of one of our own. After discussions firstly with Alan Teuma and Terry McDonald, your committee was contacted to work out how best we could be of assistance. It was agreed an Emergency Fund in cash would be most appropriate course of action, knowing that Alison and her family would have nothing left but the clothes on their backs.
This fund was only running for just over a week and the response from members and friends was overwhelming, considering many had by this time made donations to other funds. Also several members had already sent their donation direct to Alison via Geoff and Chris; such is the generosity of the veteran community.
The Active Eight were very pleased to help the family of one of our own and a cheque was sent to Alison and her family, I'm sure this would have been a great help in purchasing just general items.
Secretary; Bob Bald

LCPL John Gillespie's Ramp Service
You need FlashPlayer installed to view this video. Click here for free download