News
Click here to visit the the RAAMC Association News.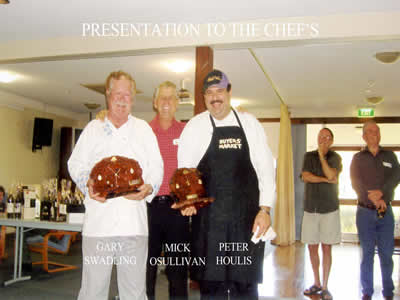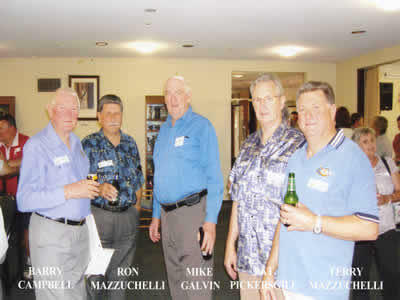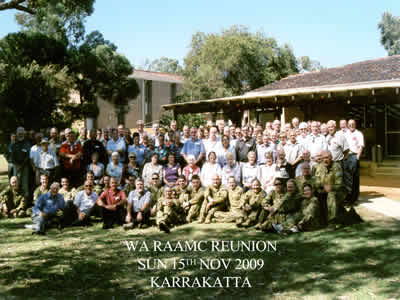 The RAAMC Old & Bolds WA were out in force with the Annual Reunion BBQ being held at the Area Sgt's mess Karrakatta on Sunday 15 th Nov with a nice humid day ensuring that many ales were consumed to not only quench the thirst but add substance to the past stories being retold.

The planned attendance of our National Corp HON COL John Taske ensured our numbers would be up. 126 were in attendance which included again the currently run GRES Combat Medic's course. This added that Uniformed flavour to the day and allowed our Old / Bolds to hear of the Training of the Medic's within the system today . One of our older gentleman in attendance had a mishap/fall during the afternoon and although he was okay, the course members responded well thinking it was a Medical Scenario that was part of their course.

A couple more formal aspects during speeches occurred with recognition of our Chef's in Peter Houlis and Gary Swadling who have voluntarily given their services to our functions for the past 19 and 18 years respectively and this was acknowledged with a presentation gift by all in attendance .( see attached Photo ) Again thanks goes to Ian Meerilees our resident Trophy maker who does an outstanding job. Mick OSullivan was also recognised in a similar fashion for his contribution over 22 years and a couple of new faces in Annette Newell and Barry Campbell have shown an interest to coordinate the functions for the future .

The sad loss of one of our own more recently in Ex Major Ron Sutton ( 4/9/09 ) was acknowledge with a quiet reflection as he had been a strong supporter of our gatherings in the past years and will be sadly missed. Five more 1 st Timers were welcomed onto the nominal roll and attended this year .

We had Interstate visitors in the retired Eddie Bradshaw and Anneka attend as they " WINE " their way around Australia in the big flash Mobile home. It was great to catch up with them and even more so, when I kicked Eddie's touché on the Golf course a few days earlier but again his excuses were many and varied ??

Our function for 2010 is planned for Sunday 14 th November and we would always be happy to host any of the Corps visitors who maybe in our Sunny State of WA.