GRACIE MORTON PWERLE
Born: c.1956
State: Nothern Territroy
Region: Utopia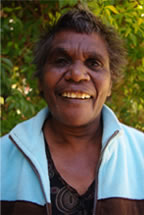 Gracie was born in Utopia, Northern Territory, which is approximately 250km north-east of Alice Springs. Gracie's career began as a batik artist in the 1970's with the Utopia Women's Batik Group before transferring her designs onto canvas in the late 1980's. Gracie's delicate dotting and colour variation uses an aerial viewpoint to depict the seasonal changes of the Amwekety - the Bush Plum, a plant of great significance to the women of Gracie's traditional country. In accordance to traditional law the responsibility for the Bush Plum Dreaming has been passed down to Gracie from her father and her aunt, who are responsible for ensuring that she perseveres its traditions. Gracie's work, first featured in the important Robert Holmes à Court Collection, is now in many important private and public collections around the world. Bush Plum (Amwekety) The Bush Plum is a very nutritious small fruit with black seeds, rich in vitamin C, which can be eaten raw or cooked. Growing in a great profusion of flower and fruit throughout the winter months, the women, accompanied by the children collect the Bush Plums. The flourish of colour that distinguishes the Bush Plum after the fall of rain, is quickly transformed with the long hot summer months. Dried and separated, the seed and husk is scattered over the vast sun baked landscape by the hot summer winds.