RAAMC ASSOCIATIONS
The RAAMC Association supports the following Unit Associations by way of website development and acting as s conduit to the RAAMC Head of Corps and Committee and form the RAAMC Association Group of Aussociations.
The following links are recommended by the RAAMC Associaton.
Regimental march
Here's a Health Unto His Majesty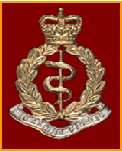 The RAMC Association has offered members of the RAAMC Association Honorary Membership whilst visting the United Kingdom. Please contact the
National President for details when planning a visit.