ANZAC Remembrance Appeal Simpson and Donkey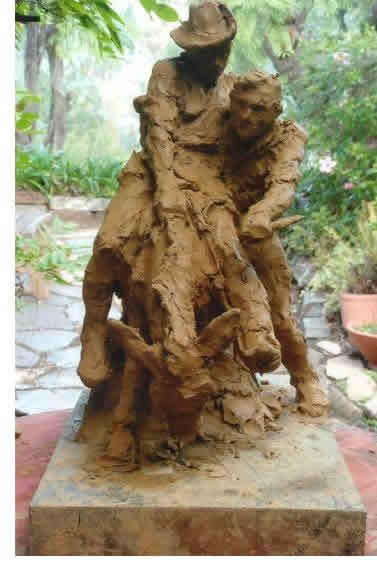 A small team of committed South Australians have been working together to realise a memorial to Simpson and his Donkey in a prominent place in Adelaide.
Simpson with his Donkey (Duffy) has always been considered a true Australian hero as his actions in Gallipoli epitomised the courage and fortitude of all the Australian soldiers that served in WW1. Since that time his image has served to symbolise the intent and spirit of all Australians whether it be in military or civilian endeavours. Simpson served with the partly South Australian unit 3rd Field Ambulance during World War One. In 1919 the 3rd Field Ambulance became a dedicated South Australian Field Ambulance yet this State is one of the few in Australia that does not have any memorial to this great symbol of Australian ideals.
This initiative captured the interest and has the full support of the Adelaide City Council, which has selected a prominent place on North Terrace in front of the Royal Adelaide Hospital which will have a significant impact and meaning to the citizens of South Australia. The Adelaide City Council have also engaged renowned South Australian artist Robert Hannaford to sculpt the statue. Below is a photo of the proposed statue estimated to cost $324.000 which will be a lasting work of art to commemorate this Australian hero.
The importance of Simpson and his Donkey to the Australian people is not to be underestimated. Private John Fitzpatrick Simpson was a stretcher bearer with C Section of the 3rd Field Ambulance at the landing of the Anzacs at Gallipoli. He was an Englishman in the Merchant Navy who jumped ship in Perth and enlisted in the AIF with the hope of getting a free trip back to England. But it was this very larrikin characteristic of Simpson that led him to become a hero at Gallipoli and endeared him to the Australian public.
Simpson was the second man in the water from his transport ship at 5am just before dawn at Gallipoli on April 25th 1915, the first and third men being killed before reaching shore. Casualties even on this first day were appalling and it was Private Simpsons job to retrieve wounded soldiers and bring them back to the Field Ambulance for treatment. Using initiative and innovation he was the first to utilise donkeys to collect and carry wounded soldiers from the dangerous rocky battlefield of Shrapnel Gully. Simpson completed the 1½ mile trip 12 to 15 times a day through sniper and shrapnel fire until May 19th 1915 when he was killed by enemy fire. He was only 22 years old.
Donations to the project are tax deductible and GST free due to the support of the Returned and Services League, South Australian Branch. Significant donors will be recognised on a plaque on the site of the project.
Cheques should be made out to
ANZAC Remembrance Appeal Simpson & Donkey and sent to
RSL SA Branch
Anzac House, Torrens Training Depot
Victoria Drive, Adelaide SA 5000
Committee for the Simpson and his Donkey Project
Patron His Worship the Lord Mayor of Adelaide Mr Michael Harbison
Colonel Viki Andersons RFD (Chair) Ophthalmic Surgeon
Brigadier Rob Atkinson RFD Orthopaedic Surgeon
Dr Creston Magasdi City of Adelaide Council, Medical Practitioner
Colonel Annette Summers AO RFD Retired Professor Nursing and Midwifery
Colonel Michael Jelly RFD Medical Practitioner
Major Don Chapman Businessman
Ann Lucas Public Relations
Supporting Organisations
Adelaide City Council and the Returned and Services League South Australian Branch