Click here to take a trip down memory lane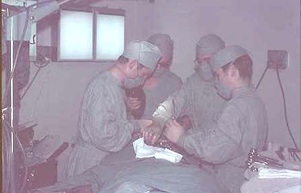 The professional services provided at the 1st Australian Field Hospital were of such high standard that they achieved a survival rate of nearly 99% on patients who reached them alive. This stands as a truly remarkable achievement, given that many of the casualties reached the hospital barely alive with horrendous wounds and severe injuries. On average, a soldier would receive emergency treatment at the hospital within thirty minutes of being wounded or injured in the field. Click here to learn more.
| | | |
| --- | --- | --- |
| Unofficial Unit Badge in South Vietnam. | Photograph courtesy of Australian Warm Memorial | Unit Sign in Vung Tau South Vietnam |
Vung Tau, South Vietnam. April 1970. The Minister for External Affairs, Mr William McMahon, paid a visit to the 1st Australian Field Hospital (1 AFH). He met the Commanding Officer of 1AFH, Lieutenant Colonel Michael Naughton of Ingleburn, NSW, and chatted to patients, including 3795570 Private Robert Bruce (Bob) Geaghan of Lake Cargelligo, NSW, lying in bed. Mr McMahon visited the major Australian bases while in the war zone and made a trip to the northern provinces to see the advisers of the Australian Army Training Team Vietnam (AATTV). Click Here to learn more about the War in Vietnam.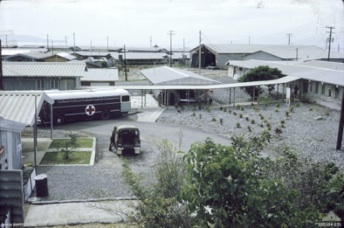 Photo taken by Mike Dwyer courtesy of the Australian War Memorial
A view of the buildings and grounds at the 1st Australian Field Hospital (1 AFH) during a MEDIVAC (medical evacuation) for transportation home.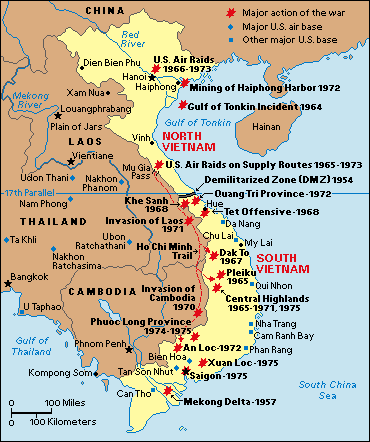 Vietnam War: Major Battles. This map shows the locations of major battles and other actions during the Vietnam War (1957-1975), as well as major United States military bases. The war was fought mainly in North and South Vietnam. Troops also battled in Laos and Cambodia, and U.S. pilots flew missions from bases in Thailand. In the war, U.S. and South Vietnamese forces fought against Communist-trained South Vietnamese rebels and North Vietnamese troops.
Click here to download 1 ATF Maps

The Vietnam War was the longest major conflict in which Australians have been involved; it lasted ten years, from 1962 to 1972, and involved some 60,000 personnel. A limited initial commitment of just 30 military advisers grew to include a battalion in 1965 and finally, in 1966, a task force. Each of the three services was involved, but the dominant role was played by the Army.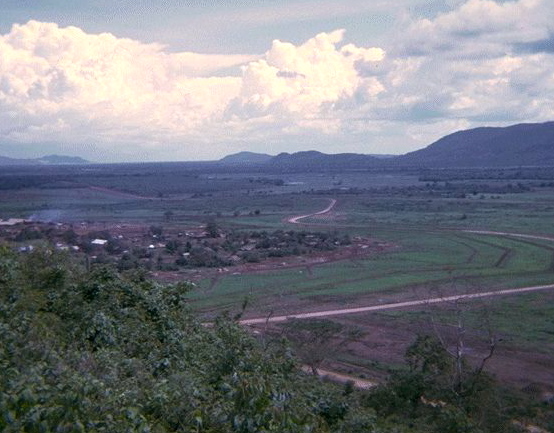 The View from SAS Hll to the Warbies

In the early years Australia's participation in the war was not widely opposed. But as the commitment grew, as conscripts began to make up a large percentage of those being deployed and killed, and as the public increasingly came to believe that the war was being lost, opposition grew until, in the early 1970s, more than 200,000 people marched in the streets of Australia's major cities in protest.
By this time the United States Government had embarked on a policy of 'Vietnamisation' - withdrawing its own troops from the country while passing responsibility for the prosecution and conduct of the war to South Vietnamese forces. Australia too was winding down its commitment and the last combat troops came home in March 1972. Involvement in the war cost more than 500 Australian servicemen their lives, while some 3,000 were wounded, otherwise injured or were victims of illness.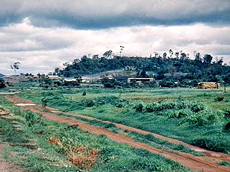 The South Vietnamese fought on for just over two years before the capital, Saigon, fell to North Vietnamese forces in April 1975, bringing an end to the war which by then had spilled over into neighbouring Cambodia and Laos. Millions lost their lives, millions more were made refugees and the disaster that befell the region continues to reverberate today. For Australia the Vietnam War was the cause of the greatest social and political dissent since the conscription referenda of the First World War.

Once Phuoc Tuy had been selected as the provincial site for Australia's task force, a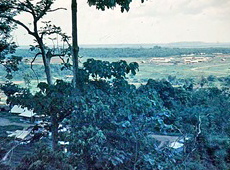 location for its base had to be chosen. There were three possibilities: Ba Ria, Phuoc Tuy's capital; the port of Vung Tau; and an area in the province's central region known as Nui Dat, Vietnamese for 'small hill'.
Removed from population centres but close to Viet Cong base areas, Nui Dat was considered ideal for the type of counter-insurgency warfare that Australians waged in Phuoc Tuy. Its location in the centre of the province meant that Nui Dat was in the middle of Viet Cong territory. Therefore, security was of prime importance. The villages nearest Nui Dat – Long Tan and Long Phuoc – were both considered Viet Cong strongholds and the Australian task force's first commander, Brigadier O.D. Jackson, with the agreement of the Province Chief, had the people and livestock of the two villages forcibly resettled. The removal of the local people from the vicinity meant that the chances of the Viet Cong gathering information about the base and the movement of Australian troops were significantly reduced. However, attempts to win the support of Phuoc Tuy's people were compromised by the decision to remove people from their homes without compensation.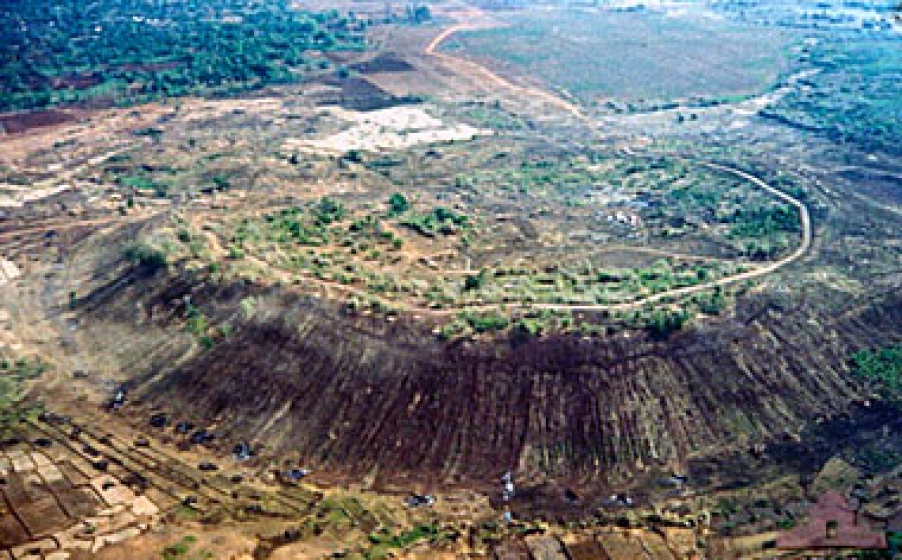 The Horseshoe

The base was established by members of the United States 173rd Airborne, the 1st Battalion, Royal Australian
Regiment (1RAR) and the newly arrived 5th Battalion, Royal Australian Regiment (5RAR). The first soldiers to occupy it lived in tents and worked to establish defences. Every soldier at Nui Dat had a fighting pit. Elevated bunkers, manned 24 hours a day, were constructed around the base's perimeter which was further defended by wire obstacles and belts of anti-personnel mines. Vegetation was cleared from a 500-metre wide area outside the wire to provide fields of fire and a clear view of approaching Viet Cong.
Iroquois helicopters (Hueys) flown by 9 Squadron RAAF arrive at Kangaroo Pad, Nui Dat from their base at Vung Tau, 1966.
At its peak the base at Nui Dat was home to some 5,000 Australian personnel, but for much of the time most of them were deployed on operations outside the base.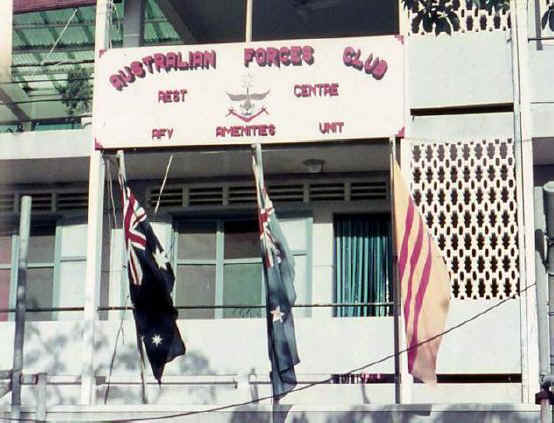 Rest and Convelesence Centre Vung Tau

Peter Badcoe Club. Roll cursor over the image to view what it is now
Vietnam Order Of Battle (ORBAT)

2 Tours: 20 Mar 69 -13 Oct 69, Mar 71-15 Oct 71
Together with other Australian destroyers, HMAS Brisbane provided Naval Gunfire Support (NGFS) along the South Vietnamese coast. Her second deployment was the last combat tour of a RAN destroyer.
HMAS Perth
3 Tours: 2 Sep 67 - 10 Apr 68, 14 Sep 68 - 20 Apr 69, 14 Sep 70 - 8 Apr 71
On 18 Oct 67, during her first deployment, Perth was hit by an artillery shell which penetrated one deck. In her six-month deployment HMAS Perth came under fire four times and was the only Australian ship hit by enemy fire.
HMAS Hobart
3 Tours: 7 Mar 67 - 27 Sep 67, 22 Mar 68 -11 Oct 68, 6 Mar 70 -17 Oct 70
Between 1967 and 1971, Australian destroyers were attached to the United States Seventh fleet for six-month tours of duty. HMAS Hobart was the first Australian destroyer deployed. During her second deployment to Vietnam, Hobart was accidentally attacked by US aircraft. The ship was damaged and two Australians were killed. During her second deployment Hobart was under fire on three occasions. The deployment was mainly involved in NGFS in support of a joint Australian/ARVN sweep between the Long Hai hills and the coastline.
HMAS Vendetta
15 Sep 69 -11 Apr 70
HMAS Vendetta was the only Australian-built warship to serve in Vietnam and was the first Australian Daring Class destroyer to see active service. During her one deployment, Vendetta steamed 39,558 miles and fired more than 13,000 shells.

Clearance Diving Team 3
6 Feb 67 - 11 Apr 71
In early 1967 a team of one officer and five sailors known as Clearance Diving Team 3 formed for service in Vietnam. The team was assigned to Vung Tau Harbour defence between Feb 67 and Aug 70, and was then stationed at Da Nang until Apr 71 when the unit was withdrawn from Vietnam. Eight contingents saw service in Vietnam.
RAN Helicopter Flight Vietnam
16 Oct 67 - 14 Jun 71
On 16 Oct 67 eight RAN helicopter pilots and support staff joined the US Army 135th Assault Helicopter Company in Vietnam. The RAN contingents served with the Americans till 1971. The RAN pilots flew their last mission on 8 Jun 71 and the experiment of a mixed Australian Navy and American Army helicopter unit had been successful.
RAN Detachment 9 Squadron RAAF
Jun 66 - May 69
The RAN Detachment of 9 Squadron RAAF comprised eight Fleet Air Arm pilots operating in direct support of the 1st Australian Task Force. Australian Force Logistic Support All three Australian services provided logistic support to Australian forces in Vietnam.

HMAS Sydney
May 65 -11 Mar 72
The troop transport HMAS Sydney was the first RAN ship to have operational service in Vietnam. She completed 22 voyages in 7 years.
Also serving with HMAS Sydney were:
Detachment of 725 Squadron (8 April - 19 June 1967) and
Detachment of 817 Squadron (1 December 1967 - 16 February 1968, 26March 1968 - 26 April 1968, 18 May 1968 - 16 June 1968 and circa 28 October 1968 - 6 December 1968)2
HMAS Jeparit
9 Jun 66 -15 Mar 72
Formerly the Australian National Line cargo ship - MV Jeparit. She completed 43 voyages to Vietnam carrying military supplies and civil aid cargoes. She was commissioned into the RAN on 11 Dec 69 and paid off on 15 Mar 72.
HMAS Boonaroo
May 66
Formerly the Australian National Line cargo ship - MV Boonaroo, was commissioned into the RAN 1 Mar 67 and paid off 8 May l967. She completed 2 voyages to Vietnam.

RAN Medical Officers
Thirteen RAN RANR and RANVR served in Vietnam. Some served on the Australian destroyers and others with the 1st Australian Field Hospital and with the US Army and Naval Hospitals.
RAN Chaplains
Fleet Chaplains attended to the spiritual needs of RAN, and allied servicemen in Vietnam.

Australian Force Vietnam (AFV)
Headquarters Australian Army Force Vietnam
Headquarters Army Assistance Group Vietnam
Australian Embassy Guard Platoon
Defence and Employment Platoon
Field Operations Research Section
Headquarters Australian Force Vietnam Cash Office
Australian Civil Affairs Unit
Postal Unit
AFV Provost Detachment
The function of Headquarters was the administrative command of all Australian forces in Vietnam. Initially, it was headquarters for Army units. From May l966, as the other services assumed an operational role in Vietnam, it included both Navy and RAAF components. The total strength was approximately 250.
1 Australian Task Force (1ATF)
Headquarters 1 Australian Task Force
Detachment 1 Division Cash Office
Detachment Australian Force Vietnam Cash Office
Provost Section 1 Provost Company (AFV Provost)
Australian Force Vietnam Provost Unit
1 Australian Reinforcement Unit (1 ARU)
Defence and Employment Platoon (Hawke Force)
104 Signals Squadron
HQ 1 ATF commanded the Task Force. The Task Force included infantry battalions, an artillery regiment, an armoured squadron, a cavalry squadron, and other supporting arms and services. Approximately 200 staff at Headquarters planned and controlled operations. HQ 1 ATF was located at Nui Dat in Phuoc Tuy Province between Apr 66 and Dec 71.

Australian Logistic Support Company1
This unit was a part of the 1 RAR Group that deployed to Vietnam on 25 May 1965 and it was redesignated as 1 ALSG on 6 April 1966 . See next entry for information about 1 ALSG.
1 Australian Logistic Support Group (1 ALSG)
Australian Logistic Support Company Headquarters
1 Australian Logistic Support Group
2 Detachment Australian Force Vietnam
Cash Office
Detachment 1 Division Postal Unit
Detachment 1 Comm Z Postal Unit
Detachment 5 ASCO Unit
Headquarters 2 Australian Force Canteen Unit (AFCU)
Detachment 2 AFCU
1 Platoon 2 AFCU
67 Ground Liaison (GL) Section
1 Australian Rest and Convalescence Centre
AFV Amenities and Welfare Unit
1 Psychological Operations Unit
AFV Provost HQ
110 Signals Squadron
The role of 1 ALSG was to command logistic support units. HQ also commanded seven detachments of logistic support elements with a total strength of 149. Upon the establishment of the 1st Australian Task Force at Nui Dat on 1 Apr 66, 1 ALSG was raised at Vung Tau. HQ 1 ALSG commanded 19 units and sub-units, with a total strength of 1015. Units under command of HQ 1 ALSG provided logistic support to all Australian forces in SVN, including the RAAF and RAN.

Australian Army Training Team Vietnam (AATTV)
1962-1972
On 24 May 62 the Minister for Defence, Mr. Townley, announced that up to 30 military advisers were to be sent to Vietnam. This announcement preceded the formation of the Australian Army Training Team Vietnam, which arrived in Saigon on 3 Aug 62. For the next 10 years members were rotated through the team for a 12-month tour of duty. The team was withdrawn from Vietnam and disbanded on 19 Dec 72. As the war progressed team members were gradually spread throughout South Vietnam and into the Mekong Delta. In 70 the team began to concentrate in Phuoc Tuy Province to the east of Saigon, and by 72 the entire team was located there.
The Primary role of the team was to provide training to the Army of the Republic of Vietnam (ARVN) but by 1964 emphasis had shifted to advising South Vietnamese field units, para military forces and Special Forces. In some cases team members commanded units rather than advised. In 1970 the team reverted to its original role of training.
The AATTV became the most highly decorated Australian unit ever, its decorations including four VCs , two DSOs, three OBEs, six MBEs, six MCs, 20 DCMs, 49 MIDs as well as numerous other Australian and foreign decorations. The unit was awarded the United States Meritorious Unit Citation and the Vietnamese Cross of Gallantry. AATTV members participated in almost all major battles involving the ARVN in 1 Corps from 1964 to 1970. Of the 990 who served with AATTV, 33 died on active service in South Vietnam and 122 were wounded in action. Ten members of the Royal New Zealand Infantry Regiment served with the team.

Royal Australian Armoured Corps
1 APC Troop Jun 65 - May 66
1 APC Squadron May 66 - Jan 67
A Squadron 3 Cavalry Regiment Jan 67 - May 69
B Squadron 3 Cavalry Regiment May 69 - Jan 71
A Squadron 1 Armoured Regiment Dec 69 - Dec 70
B Squadron 1 Armoured Regiment Feb 69 - Dec 69
C Squadron 1 Armoured Regiment Feb 68 - Feb 69 and Dec 70
Det 1 Forward Delivery Troop

Royal Australian Artillery
105 Field Battery 65-66
1 Field Regiment
101 Field Battery 66-67 and 69-70
103 Field Battery 66-67
105 Field Battery 69-70
4 Field Regiment
106 Field Battery 67-68 and 70-71
107 Field Battery 70-71
108 Field Battery 67-68
12 Field Regiment
A Field Battery 71
102 Field Battery 68-69
104 Field Battery 68-69 and 71
131 Divisional Locating Battery 66-71

Royal Australian Engineers
Det 198 Works Section 9 Jan - 1 Mar 67
198 Works Section 2 Mar 67 - 23 Dec 72
Det 11 Movement Control Group 1 Apr 66 - 12 Mar 72
3 Field Troop 14 Sep 65 - 31 Mar 66
1 Field Squadron 1 Apr 66 - 18 Nov 71
21 Engineer Support Troop 1 Apr 66 - 9 Dec 71
Det 55 Advanced Engineer Stores Squadron 1 Apr 66 - 16 Feb 68
Det 55 Engineer Workshop & Park Squadron 17 Feb 68 - 12 Mar 72
55 Engineer Workshop & Park Squadron
17 Construction Squadron 1 Apr 66 - 12 Feb 72
Det 11 Movement Control Group 1 Apr 66 - 12 Mar 72
30 Terminal Squadron 9 Jan 67 - 12 Mar 72
Det 1 Division Postal Unit 1 Apr 66 - 8 Nov 67
Det 1 Communication Zone Postal Unit 19 Oct 66 - 23 Feb 72
1 Small Ship Troop (Clive Steele) 26 Jun 66 - 23 Nov 66, 3 Dec 66 - 9 Jan 67, 17 Jan 67- 16 Mar 67, 29 Jan 68 - 27 Apr 69, 21 Jul 69 - 2 Mar 70, 11 Jul - 3 Sep 70 and 2 Mar - 12 Mar 71
1 Small Ship Troop (Harry Chauvel) 23 Oct 67 - 21 Mar 68 and 2 May 70 - 6 Jun 70
3 Small Ship Troop (Vernon Sturdee) nbsp; 11 Apr 66 - 25 Jun 66 and 23 Jan 67 - 14 Dec 67
4 Small Ship Troop (Brudenell White) 22 Sep 70 - 24 Oct 70
Det 32 Small Ship Squadron (John Monash) 5 May 66 - 14 May 66, 3 Dec 67 - 31 Jan 68, 17 Feb 68 - 31 Mar 68, 16 Dec 68 - 26 Dec 68, 20 Feb 69 - 4 Mar 69, 25 Oct 69 - 7 Dec 69 and 27 Jul 71 - 14 Aug 71
Det 32 Small Ship Squadron (Clive Steele) 23 Feb 71 - 20 Mar 71
Det 32 Small Ship Squadron (Harry Chauvel) 11 Nov - 15 Dec 70

Royal Australian Survey Corps
Det 1 Topographical Survey Troop A 66-71
Section 1 Topographical Survey Troop 66-71

Royal Australian Signal Corps
HQ 145 Signal Squadron 709 Signal Troop 25 May 65 - 20 Nov 67
527 Signal Troop 14 Sep 65 - 5 Jul 67, absorbed into 145 Signal Squadron
547 Signal Troop 1 Apr 66 - 23 Dec 71
581 Signal Troop
552 Signal Troop
506 Signal Troop
520 Signal Troop
HQ 110 Signal Squadron
HQ Signal Squadron
704 Signal Troop
557 Signal Troop
561 Signal Troop
532 Signal Troop
503 Signal Troop
103 Signal Squadron 1 Apr 66 - 5 Jul 67
104 Signal Squadron (TF) 2 Mar 67 - 15 Dec 71, replaced 103 Signal Squadron
110 Signal Squadron 2 Mar 67 - 12 Mar 72, replaced 145 Signal Squadron
Det 152 Signal Squadron (SAS) 31 Aug 66 - 15 Oct 71
AAAGV Signal Detachment 12 Mar - Dec 72

Royal Australian Infantry
First Battalion Royal Australian Regiment (1 RAR)
2 Tours: 25 May 65 - 14 Jul 66, 19 Jan 68 - 28 Jan 69
Second Battalion Royal Australian Regiment (2 RAR)
(2 RAR/NZ Anzac Battalion)
2 Tours: 20 Mar 67 - 18 Jun 68, 28 Apr 70 - 4 Jun 71
Third Battalion Royal Australian Regiment (3 RAR) (Old Faithful)
2 Tours: 12 Dec 67 - 5 Dec 68, 12 Feb 71 - 19 Oct 71
Fourth Battalion Royal Australian Regiment (4 RAR) (Anzac)
2 Tours: 20 Jan 68 - 30 May 69, 1 May 70 - 12 Mar 72
Fifth Battalion Royal Australian Regiment (5 RAR)
2 Tours: 1 Apr 66 - 4 Jul 67, 28 Jan 69 - 5 Mar 70
Sixth Battalion Royal Australian Regiment (6 RAR)
2 Tours: 1 Apr 66 - 5 Jul 67, 7 May 69 - 28 May 70
(second tour was as 6 RAR/ NZ-Anzac Battalion)
Seventh Battalion Royal Australian Regiment (7 RAR)
2 Tours Apr 67 - Apr 68, Feb 70 - Mar 71
Eighth Battalion Royal Australian Regiment (8 RAR Nov 69 - Nov 70
Ninth Battalion Royal Australian Regiment (9 RAR) 5 Nov 68 - 5 Dec 69
Special Air Service Regiment Apr 66 - Oct 71
One Squadron Special Air Service 67- 68, 70- 71
Two Squadron Special Air Service 68- 69, 71
Three Squadron Special Air Service 66- 67, 69- 70

Australian Army Aviation Corps
161 Reconnaissance Flight 14 Sep 65 - 8 Mar 72
161 (Independent) Reconnaissance Flight
Australian Intelligence Corps
Detachment 1 Division Intelligence Unit 15 May 66 - 2 Oct 71
1 Psychological Operations Unit
Royal Australian Army Service Corps (RAASC)
Bien Hoa
RAASC Detachment 65
Vung Tau
HQ 1 Company RAASC 66-67
1 Transport Platoon RAASC Apr 66 - Jul 67
87 Transport Platoon RAASC Apr 66 - Jul 67
Detachment 276 AD Company Apr 66 - May 67
Detachment 1 Division Postal Unit Apr 66 - Nov 67
HQ 5 Company RAASC Mar 67 - Mar 72
2 Transport Platoon Apr 67 - Nov 70
85 Transport Platoon (Tipper) Mar 67 - Sep 71
86 Transport Platoon Jan 67 - Mar 72
Saigon Detachment 1 Comm Z Postal Unit Oct 66 - Feb 72
Nui Dat
HQ 26 Company RAASC Nov 69 - Jun 71
85 Transport Platoon Mar 67 - Sep 71
Elm 176 AD Company Jun 67 - Nov 71
Elm 1 Comm Z Postal Unit 67 - Jun 1968

Royal Australian Army Medical Corps (RAAMC)
1 Australian Field Hospital 13 Nov 67 - 14 Dec 71
2 Field Ambulance 1 Apr 66 - 5 Jul 67
8 Field Ambulance 2 Mar 67 - 12 Mar 72
Detachment 1 Field Medical/Dental Unit 20 Nov 67 - 25 Nov 71
Detachment 1 Field Medical/Dental Equipment Detachment 20 Nov 67 - 25 Nov 71
Detachment 1 Field Hygiene Company 5 Dec 67 - 12 Mar 72

Royal Australian Army Dental Corps
33 Dental Unit May 66 - Mar 72
Royal Australian Army Nursing Corps
5 May 67 - 25 Nov 71
43 members of the RAANC served in Vietnam with 1st Australian Field Hospital and 8th Field Ambulance.

Royal Australian Army Ordnance Corps
HQ 2 Company Ordnance Depot (Type A)1
1 Apr 66 - 15 Nov 67 - redesignated 2 AOD includes the following subunits:
13 Ordnance Supply Control Platoon
16 Ordnance Vehicle Platoon
14 Ordnance Stores Platoon
18 Ordnance Depot Laundry and Bath Section
15 Ordnance Ammunition Platoon
19 Ordnance Supply Control Platoon
20 Ordnance Stores Platoon 9 Jan 67
2 Advanced Ordnance Depot
(includes subunits listed above, 16 Nov 67 - 12 Mar 72)
1 Independent Armoured Sqn Workshop Stores Section (redesignated) 29 Jan - 2 Feb 68
101 Field Workshop Stores Section 1 Apr 66 - 5 Jul 67
102 Field Workshop Stores Section 2 Mar 67 - 12 Mar 72
106 Field Workshops Stores Section
Royal Australian Electrical and Mechanical Engineers 65-71
Detachment 131 Div Loc Bty Workshop
1 Field Squadron Workshop
106 Field Workshop (Type A)
1 TF Headquarter Light Aid Detachment (LAD) Detachment
1 APC Squadron Light Aid Detachment Detachment
A Squadron 3 Cavalry Regiment Light Aid Detachment
B Squadron 3 Cavalry Regiment Light Aid Detachment
A Squadron 1 Armoured Regiment Light Aid Detachment
C Squadron 1 Armoured Regiment Light Aid Detachment
1 Field Regiment Light Aid Detachment
4 Field Regiment Light Aid Detachment
12 Field Regiment Light Aid Detachment
I Independent Armoured Squadron Workshop
1 Armoured Squadron Workshop
17 Construction Squadron Workshop Detachment
l Division ST Workshop
5 Company RAASC Workshop
101 Field Workshop (Type A)
102 Field Workshop (Type B)
Citizens Military Forces Observers
Army Public Relations Service


Headquarters Royal Australian Air Force Element
Australian Force Vietnam Headquarters
Royal Australian Air Force Contingent Vung Tau
Royal Australian Air Force Caribou Transport Flight 8 Aug 64 - 1st Jun 66
Base Support Flight May 66 - Apr 68
Number 1 Operational Support Unit Feb 68 - Feb 72
Number 2 Squadron
Airfield Construction Squadron (Detachment B) 64 - 72
Royal Australian Air Force Element 161 Recce Flight 14 Sep 65 - 8 Mar 72
No. 35 Squadron 1 Jun 66 - Feb 72
The first RAAF operational unit to see service in Vietnam, the RAAF transport flight, arrived in Aug 64 with six Caribou aircraft. The unit was redesignated as No. 35 Squadron on 1 Jun 66. The Squadron left Vietnam in Feb 72. No.9 Squadron Apr 66 - Nov 71 No.9 Squadron, equipped with Iroquois helicopters was allotted to the 1st Australian Task Force. No. 2 Squadron Apr 67 - Jun 71 The third and last RAAF operational squadron to serve in Vietnam was No.2 Squadron. It returned to Australia in Jun 71, 13 years after having left Australia from Darwin en route to Butterworth, Malaysia. RAAF Members also served with the United States Air Force 64 - 72. RAAF fighter pilots were given the opportunity of serving in Vietnam as Forward Air Controllers. In addition to duty as FACs, six fighter pilots also saw service in American phantom squadrons in Vietnam.

RAAF Nursing Service (MEDEVAC Flight)
RAAF nurses tended the wounded on the medical evacuation aircraft which transported them from Vietnam to Australia usually via Malaysia.
RAAF Chaplains
RAAF Chaplains attended to the spiritual needs of RAAF personnel as well as Australian and US troops.

Red Cross
The Australian Red Cross contributed a welfare worker who was based at Vung Tau.
Salvation Army
The Salvation Army maintained the Red Shield Hut.
War Correspondents
The Australian War Correspondents provided news and feature stories for distribution to media in Australia.
Official War Artists, Historians and Photographers
As with other wars, official representatives were sent to Vietnam to collect data, information and impressions of Australia's military involvement.
Civilian Medical Teams
Civilian Medical Teams from major Australian hospitals were sent to Vietnam as part of a civilian aid program.
Australian Entertainment Groups
Australian entertainers volunteered for service in Vietnam with specific entertainment groups which were formed and financed separately.
Everymans Welfare Organisation
Everymans is a philanthropic organisation which supports the Australian Defence Force. They provided moral support to soldiers in the field from Recruit Training onwards.

Calandar of Military and Political Events

14 Jan 1950

Nationalist leader Ho Chi Minh, who had trained in the Soviet Union but received aid from the US to fight the Japanese during World War II, declares that the Democratic Republic of Vietnam is the only legal government. This is recognised by the Soviet Union and China, but Australia supports the French-sponsored government of Emperor Bao Dai. Us provides military and economic aid to the French in Indochina.

7 May 1954

French defeated by Viet Minh at Dien Bien Phu, after a 55 day siege. The defeat signals the end to French presence in Indochina.

1955

US begins to funnel aid directly to the Saigon Government and agrees to train the South Vietnamese army

Sep 1957

South Vietnam's President Ngo Dinh Diem visits Australia. Prime Minister Menzies reaffirms support.

20 Dec 1960

Hanoi leaders form National Liberation Front for South Vietnam, which the Saigon regime dubs "Viet Cong", meaning communist Vietnamese.

24 May 1962

The Minister for Defence (Reginald Townley) announces intention to send 30 army advisers to South Vietnam (SVN).

03 Aug 1962

The first members of the Australian Army Training Team Vietnam (AATTV) arrive in South Vietnam.

01 Jun 1963

Advisor, Sergeant William Hacking becomes the first Australian to die in Vietnam when his weapon accidentally discharges after being caught in vegetation.

01 Nov 1963

Vietnam's President Diem and his brother Ngo Dinh Nhu are murdered in a military coup, with the foreknowledge of the US Government.

22 Nov 1963

Lyndon B. Johnson becomes US president after the assassination of John F. Kennedy, and announces that the US will continue support of South Vietnam. By year's end 15,000 US advisors are serving in Vietnam, which received $500m in US aid that year.

08 Jun 1964

The Minister for Defence (Hon. Shane Partridge) announces the AATTV will be increased to 83 advisers with expanded role.

06 Jul 1964

Warrant Officer Class 2, Kevin Conway becomes the first Australian to die as a result of enemy action in South Vietnam.

7 Aug 1964

Following a reported attack on US ships in Tonkin Gulf, US Congress passes Tonkin Gulf Resolution giving President Johnson extraordinary powers to act in South Vietnam

10 Nov 64

The Prime Minister (Rt. Hon. Sir Robert Menzies) announces introduction of national service to increase the army's strength from 22,750 to 37,500. Opposition to the war in Vietnam is not accepted as a reason for exemption.

18 Dec 64

Australian Government, responding to requests from the US President and South Vietnam Prime Minister for 200 additional advisers, offers to send ground troops to South Vietnam.

29 Apr1965

The Prime Minister announces the dispatch of an infantry battalion to South Vietnam, with an armoured personnel carrier (APC) troop, a signals troop and a logistic support company.

24 May1965

Advance party from 1st Battalion, Royal Australian Regiment (1RAR), departs for South Vietnam, for service with the US 173rd Airborne Division

17 Aug 1965

Australian Government approves increase of Australian forces to a battalion group, supported by an artillery, additional APCs, engineers, army helicopters, light aircraft and more logistic support

Sep 1965

A Morgan Gallup Poll finds 56% of those polled were in favour of continuing the war in Vietnam.

22 Oct 1965

A demonstration against the war in Sydney results in 65 arrests.

13 Nov 1965

WO2 Kevin "Dasher" Wheatley refuses to leave his mate, WO2 Bob Swanston, and is killed. His actions earned him Australia's highest honour, the Victoria Cross.

26 Jan 1966

Harold Holt succeeds Menzies as Prime Minister.

06 Mar 1966

Holt announces the Australian commitment in South Vietnam will be Increased to a 4350-man task force, and will include conscripts.



The 1st Australian Task Force (1ATF) will include two infantry battalions, a Special Air Service squadron, combat and support logistic units and eight RAAF Iroquois helicopters (9 SQN).

The Task Force will be supported by 1 Australian Logistic Support Group (1 ALSG) to be established at Vung Tau. For the first time, national servicemen will be sent to South Vietnam.

24 May 1966

5 RAR deploys by helicopter from 1ATF concentration area at Vung Tau to secure the Task Force area at Nui Dat. Private Errol Noack becomes the first national serviceman and member of 1ATF to die from enemy action.

04 Jun 1966

Concentration of 1ATF at Nui Dat is completed.

18 Aug 1966

The Battle of Long Tan

D Company, 6 RAR, strength of 108 men, battles North Vietnamese Army (NVA) and Viet Cong (VC) forces estimated at between 1500 and 2500 until relieved by A Company, carried in by armoured personnel carriers of 3 Troop, 1 APC Squadron. The enemy leaves 245 bodies on the battlefield while 17 Australian infantrymen and one APC crewman are killed. The Company earns the US Presidential Citation. Click here for more.

19 Nov 1966

Morgan Gallup Poll finds that 63% are in favour of conscription, but only 37% approve of sending National Servicemen to Vietnam.

07 Apr 1967

Major Peter Badcoe, AATTV, is killed in action leading two companies of Vietnamese regional forces. For his outstanding heroism in this and two previous actions, he will be posthumously awarded the Victoria Cross

26 May 1967

A New Zealand rifle company - V Company of the 1st Battalion, Royal New Zealand Regiment (RNZIR) - arrives at Nui Dat to serve with 2 RAR. The Australian Battalion is re-designated 2RAR/NZ/ANZAC.

May 1967

Morgan Gallup Poll finds 62% in favour of continuing the war in Vietnam.

18 Oct 1967

The Prime Minister announces an increase of 1700 to Australia's commitment in South Vietnam, including a third infantry battalion and a tank squadron.

17 Nov 1967

Prime Minister Harold Holt missing, presumed drowned off Portsea in Victoria. His body is never recovered.

28 Dec 1967

3 RAR establishes itself at Nui Dat as 1 ATF's third battalion.

10 Jan 1968

John Grey Gorton sworn in as Prime Minister.

29 Jan 1968

Communist forces in South Vietnam launch what becomes known as the Tet Offensive, with concentrated attacks against every major city and regional centre. Although Tet costs the Communists 45-50,000 troops, it sows serious doubt in the minds of the Australian and American people and leads to major changes in government policy towards the conflict in South Vietnam.

16 Mar 1968

Massacre of civilians by US soldiers at My Lai village. At least 450 unarmed people are killed.

26 May 1968

At FSB Balmoral, near Coral, infantry supported by Centurions tanks turn back an assault by two battalions of NVA regulars.

27 May 1968

A sweep outside Coral by D Company 1 RAR, supported by four Centurion tanks, smashes an enemy bunker systems and kills large numbers of VC and NVA.

28 May 1968

A second attack on Balmoral is crushed by combined infantry, tank, artillery and mortar fire, leaving 47 enemy dead and six prisoners for 1 Australian killed.

6/11 May 1968

Serving as a company commander with a Vietnamese mobile strike force, WO2 Ray Simpson displays outstanding heroism and disregard for personal safety in two firefights with enemy forces. His actions will make him the third member of the AATTV to be awarded the Victoria Cross.

24 May 1969

WO2 Keith Payne, also a company commander with a mobile strike force, earns the AATTV's fourth Victoria Cross.

06 Jun 1969

The Battle of Binh Bah

Two companies from 5 RAR, supported by APC and Tank troops and Australian helicopter gunships, engage in house-to-house fighting to clear the town of a strong force of NVA regulars. The fighting destroys much of the town and costs the NVA more than 100 dead for the loss of one Australian.

Aug 1969

Morgan Gallup Poll finds 55% want Australians brought home from Vietnam.

3 Sep 1969

Ho Chi Minh dies in Hanoi, aged 79.

22 Apr 1970

The Prime Minister announces 8 RAR will not be replaced at the end of the year, some support elements will be withdrawn from South Vietnam and the AATTV will be increased by about 120 soldiers.

08 May 1970

Anti-Vietnam War protesters stage the first moratorium marches in Australian cities (70,000 in Melbourne, and about 120,000 throughout Australia).

18 Seo 1970

About 100,000 people take part in a second moratorium march.

12 Nov 1970

8 RAR returns to Australia at the end of its 12 month tour in South Vietnam. It is the first 1ATF unit not to be replaced.

10 Mar 1971

Sir William McMahon replaces Gorton as Liberal leader and Prime Minister.

30 Mar 1971

Prime Minister McMahon announces further cuts in Australian forces in South Vietnam, including withdrawal of the tank squadron, RAAF Canberra bomber squadron and some Caribou transport aircraft.

30 Jun 1971

Third and last of the big anti-war rallies. About 110,000 demonstrate in State capitals.

18 Aug 1971

The Prime Minister announces the bulk of Australian forces in South Vietnam are to be withdrawn, leaving only a modified training team. The period of national service is reduced from two years to 18 months.

06 Oct 1971

3 RAR is airlifted onto HMS Sydney, leaving only one battalion at Nui Dat.

07 Nov 1971

4 RAR moves out of Nui Dat to Vung Tau, ending Australian combat operations in Phuoc Tuy province.

27 Jan 1972

USA and North Vietnam sign a peace agreement.

05 Mar 1972

The last Australian logistic units leave Vung Tau and Australia's commitment in South Vietnam returns to a training role with the 150-man Australian Assistance Group, Vietnam (AAAGV) and the AATTV.

02 Dec 1972

Australian Labor Party elected to Government.

05 Dec 1972

Conscription ends, draft resisters are released from jail and pending prosecutions for draft resistance are dropped.

08 Dec 1972

Australia's military commitment in South Vietnam ends, although controversy about the precise end date of the war continues.

23 Jan 1973

Nixon announces agreement that has been reached for 'peace with honour'.

27 Jan 1973

Ceasefire begins.

26 Feb 1973

Prime Minister Gough Whitlam announces establishment of diplomatic relations with Hanoi, but retains recognition of South Vietnam's Government.

29 Mar 1973

Last US troops leave Vietnam.

0 April 1973

International Conference on Vietnam receives first official complaints of violations to the ceasefire.

30 Jun 1973

The Saigon Embassy Guard Platoon are the last Australian troops to leave Vietnam.

04 Jan 1974

South Vietnam's President Nguyen Van Thieu declares that war has begun again.

29 Mar 1975

Australian Government responds to urgent requests for transport assistance from Governments of South Vietnam and United States by hastily dispatching a contingent of seven RAAF Hercules and two Dakota aircraft to Vietnam on a humanitarian relief mission

The RAAF is utilized in various roles during final weeks of the war, including movement of refugees, transport of Red Cross and UN supplies, and on 4th and 17th April, evacuation of Vietnamese war orphans from Saigon to Bangkok during 'Operation Baby Lift'.

17 Apr 1975

Phnom Penh, Cambodia falls to the Khmer Rouge

25 Apr 1975

Australia closes its embassy in Saigon, completing withdrawal from Vietnam on ANZAC Day.

The final task of Australia's military in the Vietnam War is conducted on ANZAC Day, when the RAAF participates in evacuation of the Australian Embassy and final withdrawal of personnel from Saigon

30 Apr 1975

Communist forces capture Saigon as the last Americans leave in scenes of panic and confusion.

Courtesy of the VVAA Museum Sub-Branch. Includes material from the Special Edition of the Australian on Thursday August 18 1988, with attribution to Stuart Rintoul's "Ashes of Vietnam" (William Heineman, Australia).