Biography - MAJGEN Paul Alexander
Surgeon General ADF and Commander Joint Health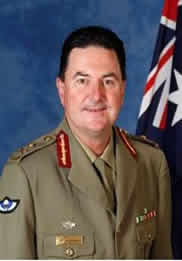 MAJGEN Paul Alexander joined the Army in 1976 and completed his medical training at the University of Melbourne in 1978. Following several years of clinical training in Victorian hospitals, he commenced the first of several regimental appointments as the Regimental Medical Officer (RMO) of the 3rd Battalion Royal Australian Regiment. This was followed by several years working as an RMO in Papua New Guinea with the PNG Defence Force. He then served as the RMO for the Special Air Service Regiment for three years and completed SAS selection during his tenure.
In 1988 he undertook a period of postgraduate medical training in the UK in the areas of Sports Medicine and Tropical Medicine as well as undertaking several military attachments with UK medical units. On return to Australia he was promoted to Lieutenant Colonel and appointed as Commanding Officer of 11th Field Ambulance and subsequently as Commanding Officer of 1st Military Hospital Yeronga. Three years were then spent with the US Army as the Australian Army Exchange Officer to the US Army Medical Department where he was employed in the area of Capabilities, Combat and Doctrine Development and was involved in the redevelopment of US Army battlefield hospital systems.
On return to Australia he was promoted to Colonel and posted to Headquarters 1ST Division as the Senior Medical Officer and during this period, deployed with the initial peacekeeping force to Bougainville on Op BEL ISI. He transferred to the Army Reserve in 1998 and subsequently assumed the position of Director Reserve Health Services for Army in Qld. During this period he deployed as the Public Health Officer to the UN Peace Keeping Force in East Timor.
He was promoted to Brigadier in January 2004 and assumed the position of Assistant Surgeon General ADF - Army. He continued to work in clinical practice and was a partner in a large group medical practice in Queensland, undertaking the duties of managing partner. He was active in primary health care policy development as the Chairman of the Redcliffe Division of General Practice.
MAJGEN Alexander has also been actively involved in risk management and legal medicine. He has completed a Masters in Legal Medicine and is a Fellow of the Australian College of Legal Medicine. MAJGEN Alexander was promoted to the rank of Major General on 25th March 2008.
MAJGEN Alexander was appointed Commander Joint Health and Surgeon General Australian Defence Force on 4 August 2008 and Joint Health Command was established on 11 August 2008.